Friday, Friday, Friday!
I am so ready for the weekend!
As always linking up with Erika/Narci/Andrea, Amy/Karli, and Darci & crew!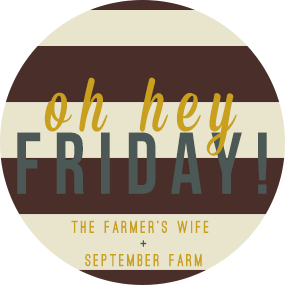 Fall in Ohio is just beautiful!
This photo is heading towards my in-laws house.
I can't wait to see all the colors develop over the next couple of weeks :)
~two~
My dad came down and watched X again for us on Tuesday and stayed for Mic and I to grab a bite to eat.
While I would have loved to go to Columbus for our anniversary, it wasn't in the cards time wise.
So we settled on a yummy local Japanese Steakhouse :)
~three~
I got to stay home with X on Thursday (hence the super late Friday post) and had a lot of fun with him :)
Only a couple tantrums (if you could even call them that)!
We drew on the chalkboard, colored in his new TMNT coloring book, played cars, and even took a trip to Target!
He actually sat in the cart the entire time and was so good!
He of course was rewarded with a new TMNT doll of his choice :)
Shredder, AKA "the bad guy" came home with us. lol!
Not a dramatic bone in his body ;)
~four~
I am still hooked on Dancing with the Stars and this week was excellent!
I had tears in my eyes when Lea Thompson danced --- I love that song!
While I loved Sadie & Mark's dance, Alfonso and Whitney took it home with "The Carlton"!
Can't wait for the switch up next week!
Who are your favorites?
~five~
We are headed north to cheer on my Cleveland Browns to a (fingers crossed) victory over the Pittsburgh Steelers on Sunday!
I can't wait to tailgate with my fam and watch my boys play!
LET'S GO BROWNS!!!!
I never thought blogging would...
Turn into this awesome, amazing thing that I look forward to doing every day!
I love the community and the friends that I have made through this small piece of the web.
I honestly never thought I would meet some of those amazing ladies either (I have been to 2 great blogger meet ups)!
I look forward to many more in the future :)
Another thing I never thought blogging would do was give me so much confidence to just be me.
It has welcomed me with open arms just the way I am,
and has continued to push me to truly be ME :)
Thank you!