That commercial is the only thing getting me through this morning!
Today I am stealing following in another Ohio blogger's (Not So Newlyweds) footsteps for...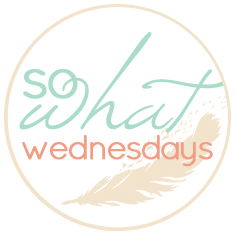 Today I am saying "so what" to the following...
* If it is after 10am and I am finally writing my post for the day.
* If I ate my entire (slightly overstuffed) Chipotle burrito in one sitting...I was hungry!
*
If I put off doing dishes (again) to watch Pretty Little Liars last night. SO GOOD!
*
If I keep telling myself I am not a coffee drinker, but end up having a cup of it every morning at work.
The chocolate creamer is amazing!
* If I haven't done any research for my fantasy football team and the draft is only
* If I have huge dark circles under my eyes today. X has not been sleeping well
the last few days...waking up at 2 or 3am each night :(
* If I have a dozen or so cupcakes that need to be made for this weekend and
I haven't even started to think about what flavor or if I have
the ingredients I need to make them.
What are you saying "so what" to today?
Isn't that GEICO commercial hilarious?