Today's favorites are so random!
The week has flown by and we haven't done much other than work.
And X still has a slight cold which has made him extra fussy at bedtime and in the mornings :(
Hoping he can get better this weekend with some extra rest.
I am looking forward to attending our first Oktoberfest with some friends on Saturday, watching the Browns win (fingers crossed & lots of prayers being said) on Sunday, and gathering some items together to work on our outfits for our family pictures later this month.
Now onto the randomness!
I shared some of my favorite scarves I have along with a few that I would love to add to my collection.
I actually received this one in the mail this week and I love this mix of colors!
#
iheartplaideverything
It might just be making an appearance in those family photos I mentioned above :)
And it is still only $10!
We had a crazy busy weekend visiting with family and attending the Browns game!
I love getting to see two of my very favorite people together :)
We took a boat ride from Lorain to Cleveland for the game on Sunday and it was gorgeous!
That view right there of downtown is one of my absolute favorites!
#andmostofminelivesinclevelandohio
The month of September definitely had some ups and downs!
I blogged about some fun upcoming events too!
And talked about our favorite Halloween traditions :)
This may be new to some of you, but I have worn glasses or contacts since I was 5 years old!
Almost 32 years of my life!
I typically wear contacts during the day while at work, but you better believe one of my favorite things to do when I get home and get into my comfy clothes is take those suckers out and put my glasses on!
Recently those glasses were updated by Firmoo, and they are now giving you the opportunity to win a pair for yourself!
There is still time to enter!
Winner will be announced on October 8th!
This week I started doing the workouts from the 21 Day Fix program.
They are my new favorite workouts!
With the craziness of work and life, I haven't been able to make it to any kind of class in awhile :(
And while I love getting on the treadmill to burn off some steam/stress, I know I need to be doing something more.
The workouts are only 30 minutes long, but definitely gives that full body burn.
I have done the first 3 workouts as of writing this post and I can hardly walk!
I love it!
I mean, no it isn't ideal to be that out of shape that you can't walk after a 30 minute workout but I like to know I got a good workout!
I love working out.
Plain and simple.
If I could live at a gym and take classes all day I probably would.
However, with Mic's work schedule getting busier this is a great alternative for me (and much more realistic).
I also picked up the Fixate cookbook when I placed my order through Kelly's website (Familiar Joy).
Love it!
So many good clean eating recipes that the whole family will love!
This cutie patootie is learning about police officers and fire fighters this week at school.
Officer Xavier is my favorite!
He had me "calling" 911 so he could answer his pretend phone.
I would explain my issue (my dragon was missing - lol!) and then he would show up to help!
So cute!
And my completely random, and so NOT a favorite was this guy at the game on Sunday!
It was pretty darn hot sitting in those seats, but everyone else managed to keep their shirts on.
Mic was busy taking pics of him and the guy noticed so he posed for him.
If that were me I would be SO embarrassed to have been caught!
And that is it for today's edition of Friday Favorites!
How was your week?
Are you attending any Oktoberfest festivals this weekend?
Linking up today with the following ladies.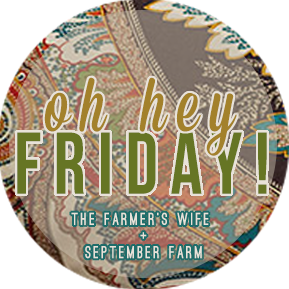 Amy
/
Karli