The temps are getting cooler, the leaves are changing colors, and it is October!
Like most people, it is my favorite time of year!
We got to spend the weekend with some great friends and celebrate Oktoberfest!
We had so much fun and can't wait to go back next year!
A favorite moment was when we all got our matching hats!
That smile of his is by far my favorite!
I mentioned a few weeks ago that I had purchased the TOMS wedge booties in herringbone from Zulily.
As soon as they arrived we had a heat wave!
So I was super excited to see the temps a bit cooler this week so I could finally wear them.
I never would have thought I was wearing a wedge shoe all day!
Definitely my new favorite!
And I am now trying to decide on my next pair!
I do have a birthday and Christmas coming up ;)
With everything we have had going on recently, we decided to keep things relaxed, low key, and cheap.
We enjoyed some of our favorites (like a bloomin' onion) at Outback just the two of us.
We plan on visiting another favorite (Mimi's Cafe) this weekend for a yummy lunch before doing a little early Christmas shopping :)
Andrea turned me onto these amazing cuffs last year and I was able to pick up a couple for me and Christmas gifts last year.
Well, the shop is only open for a few more weeks and I haven't placed an order yet :(
I have picked out my favorites, but can't for the life of me figure out what to have them say.
HELP!
So in the comments below I would love to hear what comes to mind when you think of me :)
A phrase, a word, a song, etc.
I am looking for inspiration!
Thanks for your anticipated assistance :)
And that is a wrap for this week!
Happy Friday Friends!
Enjoy your weekend & GO BROWNS!
Linking up with the ladies below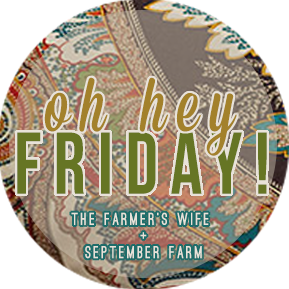 Amy
/
Karli