I am a sucker for a good link party,
so of course I am joining in on the fun today with
Jake & Holly!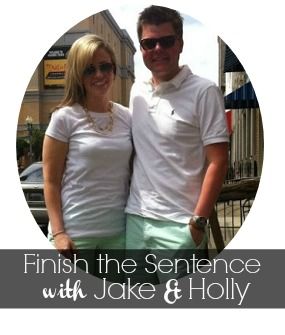 My happy place...
On a couch watching my favorite TV shows

Whatever happened to...the TGIF line up on ABC? I am talking about shows like Boy Meets World, Step by step, Hangin' with Mr. Cooper, and Just the ten of us! Those were the good ole' days :)
So what if I...
watch teen dramas! They are SO much better than Reality TV! Hello Pretty Little Liars! :)

E! needs a reality show about...nothing! So sick of all these stupid reality shows!

My go-to fast food meal is...10 piece chicken nugget meal w/a coke at McD's. I eat about 4 of the actual nuggets and ALL of the fries.

You might not know that I...am seriously super duper terrified of scary movies/shows/etc. I am 34 years old and I still have nightmares if I see even 2 seconds of a scary commercial! If I am home alone, every light will be on in the house if I even get a slight scare!


The hottest quarterback in the NFL is...Seriously? It is a tie for me between Tom Brady and Brady Quinn. Must be in the name ;)

If I could...get some effing good sleep each night, I would totally give up coffee, pop, you name it!

My personality is awesome because...I'm me! Hello, have you met me? Seriously, it's because I'm super passionate and dedicated to my friends and family...oh, and my husband says I'm "down" :)


Twerking is...totally not meant for white girls!


I think it's super gross when...someone walks around with bare feet outside. I was not born or raised in a barn or anything like one, nor did I grow up where it was acceptable to go about your business with no shoes on!
The sign reads "No shirt, No shoes, No service" for a reason!

Someone needs to tell Miley Cyrus...that she just isn't cute! Never has been in my opinion!
Now it is your turn!
Join the link up party, or just answer the questions below in the comment section :)
I would love to hear what your answers would be!