What did you think I meant? ;)
for Gratitude w/Steph :)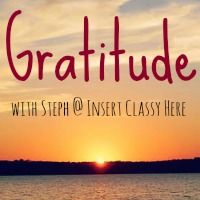 What I am grateful for...
After watching a good friend lay her (way too young) sister to rest last week,
it makes you realize how much we take our good health for granted.
While sometimes it can truly be a pain in the butt,
at least I have a good job, my hours aren't crazy,
and I have quite a bit of freedom.
While I hate to admit it some days,
I know I wouldn't be where I am today without him.
It is been a crazy ride over the last 12 years,
but I wouldn't want to be on that ride with anyone else!
Oh, and he is an AMAZING dad too! :)
That little guy is truly the greatest thing in my entire life!
He may frustrate me to tears sometimes,
but he is the most fun kid EVER! :)
That laugh of his is one of the best sounds in the world!
There are too many of them to list,
but I am very thankful they are all in my life and helped
shape me into who I am today :)
Enough of the serious stuff!
Here are few more things I am grateful for,
but I am sure I could live without as well :)
You allow me to get out of the house for 2 hours a week,
have some adult only time,
and get a good workout in!
You are one of only 2 shows I am actually watching this summer!
(That is a record low for me!)
Thank you for being an escape during my work week.
You truly are a place of joy for me!
I can walk through your store without buying a thing,
and still feel better when I leave :)
It is something about how clean everything always is,
and how the products are lined up so perfectly that just puts me at ease.
While I know I could live life without having my own blog,
it has helped me grow in ways I never would've imagined.
or reading that others are going through similar things has
really helped me in every day life.
It is great to know I have some wonderful blogger friends out there too!
Stop and think...what are you grateful for today?