Finish the Sentence...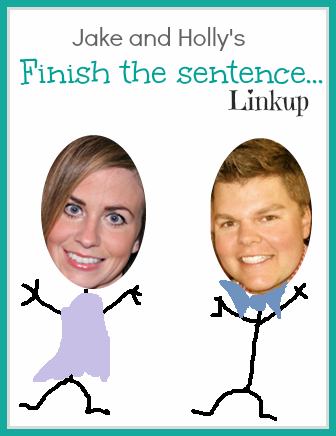 If I had one extra hour in the day...SLEEP! I have a 19 month old little guy who just wants to go, go, go all the effing time!
I wish my name...Honestly, I like my name :) But for fun's sake, let's go with Savannah....oh wait, maybe Six instead! I love the number 6, it is easy to say, etc.
Yes, let's go with Six :)
I think anything chevron is...Cute :)
My last nightmare...involved way too many people I know, and lots of ants! YUCK!
Sometimes...I turn on music in my car that represents the area I am driving in so I look like I fit in...or at least I won't be too scared!
My last meal on earth would be...from The Melting Pot! Gimme some fondue!!!
I would much rather be sleeping than drinking.
Mayonnaise...Yummy! I used to put it on bread and eat mayonnaise sandwiches as a kid all the time!
10 years ago, I didn't think...I would be where I am (central Ohio) or who I am(wife/mommy/co. bus. owner) today
.
Selfishly...I like riding in the car alone so I can belt out any song I want to and as loud as I want to! I can't stand when someone doesn't like the song I want to hear.
My favorite show on TV right now...Hello! Pretty Little Liars!
And, George Zimmerman...Who? Seriously, I don't care. The news is depressing!
Sorry for the lack luster posts lately,
super busy around here :(
I will try to be back to my normal self next week!
XoXo ~ V


PS. I have no idea why the color of my text is all screwed up today, and I don't have time to fix it. Sorry! Back to normal on Friday!