Please join me today and every Thursday in the month of November for...
Let's share some of our favorite Christmas cookie, candy, pie or
any other holiday dessert together!
So grab my button above and lets get bakin'!
Kentucky Bourbon Balls
I made these a few years ago for some cookie trays we made up for some friends and they
were such a hit!
But be warned! They pack a punch!
What you will need...
1 Cup Crushed Vanilla Wafers
1 Cup Confectioner's Sugar
1/4 Cup Unsweetened Cocoa Powder
3 Tablespoons Light Corn Syrup
1/4 Cup Bourbon
1 Cup Chopped Pecans
Unsweetened Cocoa Powder and Confectioner's Sugar for coating
Directions
Combine the wafers, sugar, 1/4 cup cocoa powder, corn syrup and bourbon in a food processor or an electric mixer. Blend until thoroughly mixed. Then, using a spoon, stir in the pecans. Roll tablespoons of the mixture to form small truffle-sized balls (these babies are sticky! Coat hands in flour if needed). Roll the bourbon balls in the cocoa to coat them. Just before serving, lightly sprinkle the balls with confectioner's sugar using a strainer or shaker.
Sandwich Cookies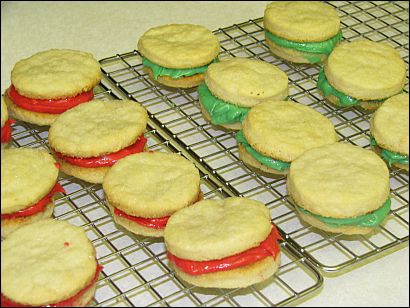 These quite honestly are my favorite Christmas cookie. They are so soft and delicious that they practically melt in your mouth. I grew up making these with my mom every year. I don't know why we saved them for Christmas because they easily could be made year round. Just change the color of filling for the time of year or event!
What you will need for the cookies...
1 1/2 Cups Butter
1-1 1/2 Cups Crisco
4 Heaping tablespoons Powdered Sugar
1/2 Teaspoon Vanilla
4 Cups Flour
What you will need for the frosting...
1/2 Cup Softened Butter
1 1/2 Cups Powdered Sugar
2 Egg Yolks
2 Teaspoons Vanilla
Directions
For Cookies - Cream the sugar, butter, and Crisco together. Add the flour and vanilla. Roll into tiny balls and flatten with a fork. Bake @ 350 degrees for 15 minutes or until bottom is golden brown.
For Frosting - Beat together all ingredients and separate into 2 bowls. Tint each using red and green food coloring.
Once cookies have cooled, use one cookie as the base, frost, and add a second cookie as the top.
Now it is your turn!
Link up below, grab my button, or just post a link back to my blog in your post :)
I can't wait to see what recipes you share!
And remember I will be hosting this event every Thursday during the month of November.
Each link closes by Saturday morning, so if you miss it this week be sure to join the fun next Thursday :)
Follow me on Twitter here
Follow me on Instagram here
Follow me on Pinterest here
Follow me on Bloglovin here