Honestly, as I begin writing this I don't know what the "more" in that title will be. lol! #keepinitreal
Linking up on the last Friday before Christmas (Seriously?) with the fine ladies below.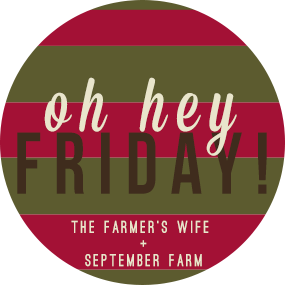 I received this orange and brown one on Sunday, from a family friend. (Her mom whipped this baby up for me.) We have grown up going to the Browns games together so this combo is not surprising at all! I love it! And it is SOOOO soft!
Free Meal
I celebrated my 36th birthday on Tuesday. Honestly, it might have been the most uneventful birthday I have ever had.
I was at home all day with a sick toddler. Mic came home sick from work.
There was no going out to a nice dinner or anything :(
Thank you to all my friends and family though for the calls, text messages, and Facebook shout outs!
I feel super loved :)
Mic was able to chill with X so I could enjoy a solo trip to Target and pick up some dinner for myself.
Thank you to the wonderful lady working at Skyline Chili!
She picked up the tab for my yummy meal :)
Made my day!
Free Starbucks
I had actually ventured out on my birthday to get my favorite winter treat only to be told that they no longer had the ingredients to make the Caramel Brulee' Latte :(
I was so bummed I left with nothing!
Thanks to my Kroger Starbucks I was able to enjoy my free treat the following day, and the next day.
They confirmed they have plenty of the ingredients to at least get them through the holidays.