I would love to tell you this week was full of sunshine and puppy dogs, but it wasn't.
Which means he really doesn't sleep well at night.
Which then means Mic and I aren't sleeping well either :(
Then on Tuesday I decided to grab lunch out just to get some fresh air.
While I was driving someone decided to make my lane theirs and run into my car.
Thankfully no one was hurt and my car has little damage.
So needless to say I am so ready for you weekend!
Now that I got the bad out of my system, let's focus on the good!
Linking up with some of my favorite hosts :)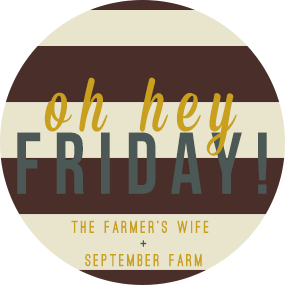 ~ Family ~
The older I get, more responsibilities I take on, etc. it gets harder and harder to make time to visit family that isn't local.
I am so thankful and grateful to get to spend that time with them.
And I absolutely adore getting to see X interact with my mom, grandma, cousins, etc. :)
My Cleveland Browns are in first place in their division!
This hasn't happened in 2 decades.
While I am not getting my hopes up (I have been a Browns fan for far too long to do that), I am super proud of my boys!
And then I found this shirt...
Hey Mic, did you read that last line? ;)
I mentioned this amazing & super simple appetizer that I made for our S'mores Party.
With the snow starting to arrive, it makes for longer commutes.
So I use my crock pot much more in the winter months.
I decided to make those brown sugar bits of goodness again this week and oh goodness they did not disappoint!
And when I say super simple, I mean it!
Throw them in the crock pot on high and 2 1/2 (or 5-6 on low) hours later you have a meal that everyone will enjoy! :)
This might just be my new go-to for family and friend parties.
From this...
Mic and I are going on a date night this weekend!
I am hoping for an adult dinner and maybe a little Christmas shopping :)
Honestly, I just want to spend some time away from work, home, and X with my guy!
~ Festive ~
Two weeks later than normal we finally have our Christmas trees and decor up throughout the house :)
I just love how warm and cozy our house feels when we have Santa's, penguins, and trees scattered all over the house!
I have only purchased 2 Christmas gifts so far, so now that our decor is up I am diving in.
Of course we some one's 3rd birthday to celebrate as well :)
How was your week?
Any big weekend plans?
Don't forget to check out my post from yesterday to enter to win a Disney DVD!
Happy Friday & Have A Wonderful Weekend!
Go Browns!!!