While we have been hit with some ridiculously low temps this past week (think teens and single digits at times),
it was definitely better than last week!
Mic and I enjoyed a great date day/night on Saturday,
and we picked up a few Christmas gifts as well :)
I found the perfect holiday glitter nail polish at Target.
This is not my hand, but I wanted to show what the colors were.
I just love the red and green glitter together! Super festive :)
I am not usually a glitter girl, but I am liking it more and more this season.
I couldn't find a link to it, but is Sinful Colors in Holiday Rebel.
I was notified by two different bloggers that I won giveaways this week!
Makes me think I need to enter a few more! Just kidding :)
The 80's child in me is reliving my days of gazing at him in Teen Beat Magazine as I type this :)
source
Now I need to figure out what color I would like :)
So technically I could end things right there and call it a day, but I won't.
We have our Christmas trees up and decorated, but I know some of you are waiting until this weekend or even after Thanksgiving.
So today I wanted to showcase five of my favorite types of ornaments.
S'mores ornaments are my absolute favorite!
Mic and I have collected enough over the years that we now have a tree in our house that is dedicated just to these ornaments!
They are so cute and fun!
I love seeing what new designs they introduce each year :)
Here are a few of my favorites that we own.
All of these can be found at Bronner's.
I have recently found a few at Menard's as well.
Mic and I just love picking up new ones each year.
Personalized ornaments are always a good choice too!
This time of year you can usually find a kiosk selling them in every mall and are able to add your family names for free.
These are great gift ideas for neighbors, coworkers, etc. :)
source
Hallmark ornaments are close to my heart since my mom seems to get X and me a new one each year.
From The Grinch, to John Deere Tractors, to Mickey Mouse and many more.
They always offer ornaments that the whole family will love to see on the tree.
source
Snowflakes!
We purchased quite a few glittery snowflakes in different sizes for X's 1st birthday party. It was a Winter "One"derland theme.
What do you do with 30+ snowflake ornaments when the party is over?
You decorate your tree of course!
Last year I just used them on one tree, but this year we have added some to our main tree as well :)
I just love the end result and the extra sparkle that the glitter adds to the tree.
1/2/3
I love the look of a tree that has a theme to it.
Our main tree usually has all the personalized or sentimental ornaments on it, mixed with red balls.
This year we have red matte, shiny, and sparkly!
In years past we had an all red and silver ball tree.
And have even had green in there too.
Ball ornaments just kind of take the tree to the next level for me :)
What are your favorite ornaments?
Do you decorate your tree the same each year or change it up?
Do you have a theme for your tree(s)?
Linking up today with the following ladies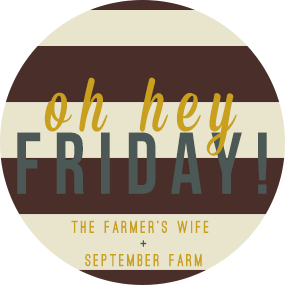 Hope you all have a wonderful weekend!